Ethics charter of multiplayer game morbak
Online or live, it's necessary to behave when playing a multiplayer game. Games of MORBAK  must take place in a spirit of fair play. Friendly and pleasant behavior must be adopted by all players.
To maintain a friendly atmosphere on the site, it is necessary to have the appropriate behavior, including:
– Warmly welcoming and saluting  opponents.
– Being courteous and cordial with the opponent and the spectators.
– Exchanging  and  communicating with the utmost respect for opponents and spectators.
– Never use verbal abuse.
– If a player declines an invitation to play, do not insist by reiterating the request.
– Do not abuse the limit of time allowed between each shot, with the sole aim of slowing down and annoying some opponents.
– Do not help with artificial intelligence in a game.
This list is not exhaustive, fair play and politeness are above all a state of mind! Any abusive or rude behavior has no place in a game of MORBAK.
Do not take the risk of being excluded from the community.
In order to avoid the potentially  unscrupulous  individuals tempted to enjoy the freedom of speech and tone that we recommend on the site, a REPORT function can be used to report inappropriate behavior. However,  this function  should not be abused and it should only be used for proven breaches  of this code of ethics.
The MORBAK team reserves the right to temporarily or permanently exclude any player not respecting this charter.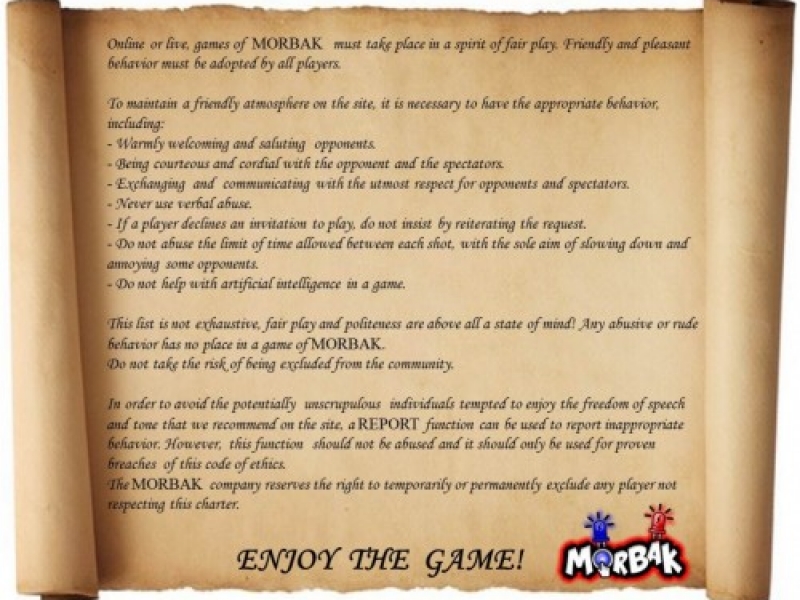 You like ? Share it !